We make your first dive an adventure
and create memories you will never forget
BEGINNERS
Ever wondered how it feels
to breathe under water?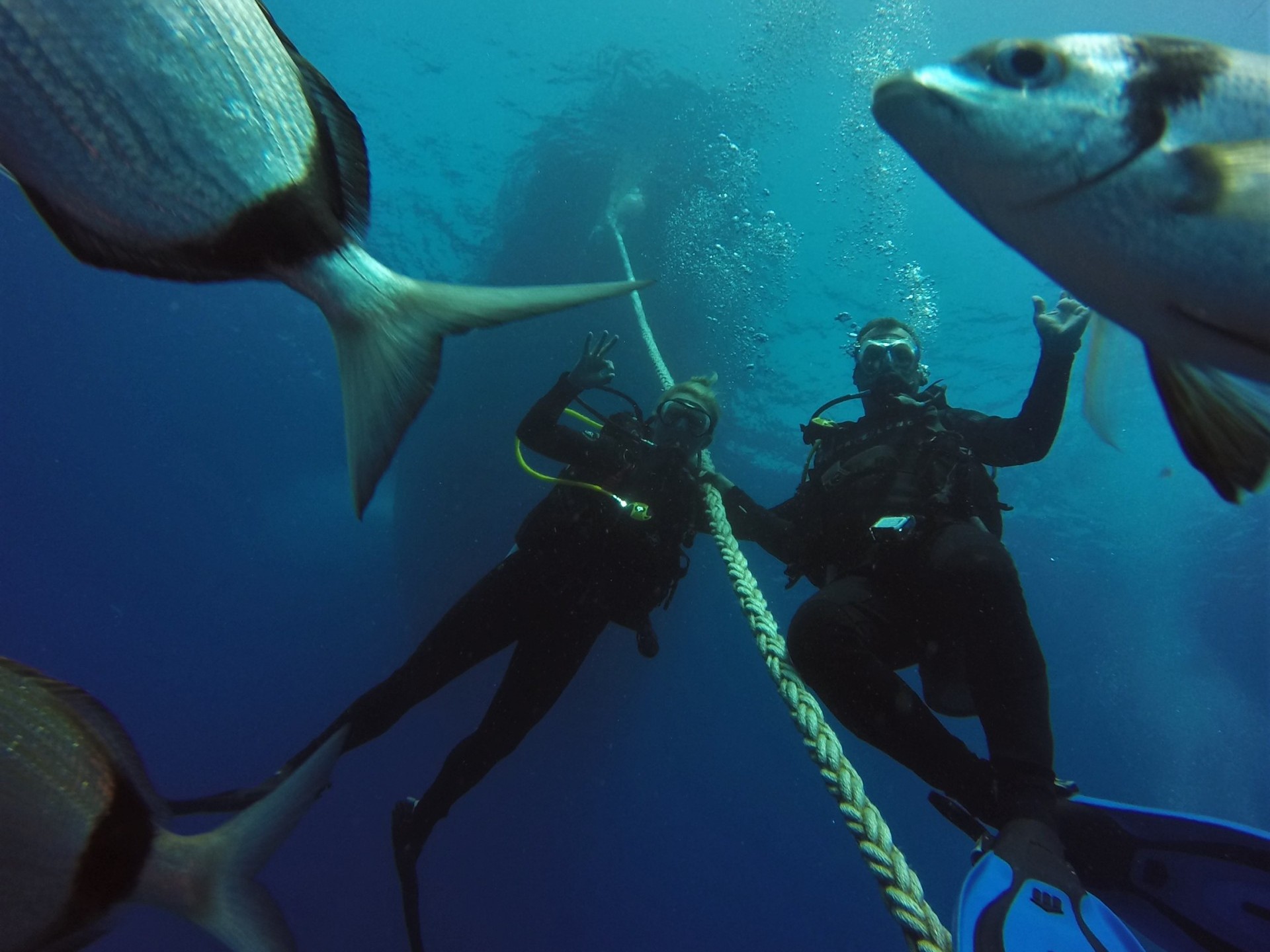 We seek adventure
where others only dream
Become a qualified diver or advance
your experience in diving
COURSES
Explore the crystal-clear
waters in Cyprus
Visit the most beautiful dive sites
around Cape Grecko.
DIVE SITES
We are a PADI 5* award winning Dive Centre in Pernera, Protaras. Our bright and modern Dive Centre offers everything you need for your recreational diving in crystal-clear waters of Cyprus. It does not matter if you want to take your first breath under water or you are are an experienced diver, who wants to further their experience. With our big selection of dive sites along the coast of Cape Grecko, there is something for everyone.
Our welcoming, passionate and multilingual staff are there to help you with every question you have. We try to keep our group sizes at a minimum. That is why ever couple or family will have their own instructor with a dive tailored to their wishes.
Our long established experience with beginner divers, makes your first dive an unforgettable adventure and creates memories you will never forget.
"Taba is an excellent dive school. Completed both my Advanced open water and went to the Zenobia with Taba. So professional and caring for the welfare of their divers. Taba always want you to learn and help you improve your diving at a great cost. Shout out to Cas, Manuel, Pete and Steve"
"My daughters aged 9 & 12 just had a scuba experience, they absolutely loved it.
As a parent I felt totally confident in the highly experienced instructor with the care of my children in the water and my girls had a fantastic time!
Thank you!"
"First time scuba diving, so I was a bit nervous at first. However, the instructions were super clear and the instructors were super patient and encouraging so I lost all nerves after 5 minutes. Decided to book another dive because we liked it so much, which could still be arranged for the same day (it was not high season). They pick you up from the hotel, have all the gear ready for you and bring you back again. Super friendly staff and great service really added to make this first dive an amazing experience."
"Been going scuba diving with Taba diving centre for a few years now. Over the years we have seen all our family complete the beginners dive with the centre, with our daughter just finally becoming part of our scuba family. Brilliant team at the centre, with fantastic instructors!!
Would highly recommend the centre to anyone!!
Can't wait to be back next year to do the Green Bay dive."
"Amazing experience for my children (8-10), they felt safe, secure and above all had fun. Steve was with them all the time continuously making sure they were OK and having a great time. The photos and videos were of high quality and perfect. Amazing experience and one the kids will never forget.
Highly recommended."
"Had a great experience here today. Seen a few dive schools around the globe and these guys and gals definitely stand out in their professionalism and friendliness, not to mention their fair pricing.

Would definitely recommend any first time or beginning divers to do a couple of dives with Taba since an experience with them will get you hooked :)."